The Cardano- (ADA) based virtual currency exchange IronX released its public sale. The hard cap has been set at $50,000,000 dollars. This sale is expected to last a month and two weeks. After it, the exchange platform will be released. At the time of writing, IronX raised $22.3 million dollars.
Cardano-Based IronX Launches its Public Sale
Cardano continues to expand in the cryptocurrency market. This time it will be able to do so with the IronX exchange. The platform will be using ADA as the base cryptocurrency for its operations.
On Twitter IronX wrote:
"THe starting pistol has gone off, and the ICO is on! Your opportunity to get involved in one of the most talked about ICO's of the year is here! Go to ironx.io to get registered for the IRX Public Sale!"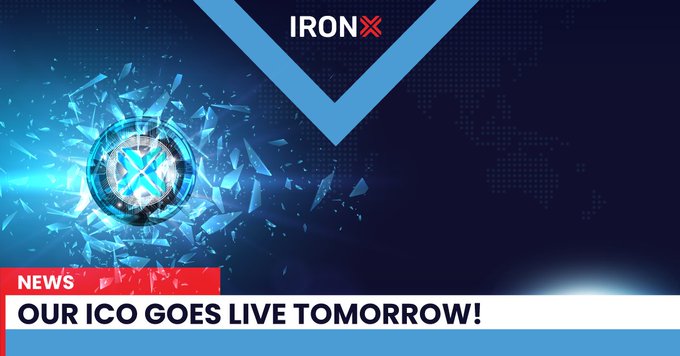 The current pre-sale for the exchange started on June 20 and ended on August 30. Back at that time, it sold 67 million IronX tokens (IRX). During this public sale, each IRX token will be priced at $0.44 and will be available for purchase with Bitcoin (BTC), Ethereum (ETH) or wire. The minimum order is $100 dollars.
IronX has collaborated with EmurgoHK and IronFX so as to launch this crypto platform. The IRX is an ERC-20 utility token that incentivizes holders and owners to have discounts on trading fees. The ADA virtual currency will also be used for standard trading pairs.
IronFX is a global online forex trading brand with 10 different trading platforms and 200 tradeable instruments. The exchange works with retail and institutional customers from 180 different countries.
EmurgoHK is a global leader in blockchain technology. Is one of the companies behind Cardano and it uses the ADA cryptocurrency. The company is working in order to spread Cardano and its benefits all over the crypto market.
According to IronX, the company is fully regulated. The platform obtained a license from Estonia and the Estonian Financial IntelligenceUnit. Furthermore, it aims at acquiring similar licenses in Malta and Gibraltar. Both nations have taken very friendly measures for crypto and blockchain companies to start operating in their jurisdiction.
Cardano (ADA) is the 8th largest virtual currency with a market capitalization of $1.89 billion dollars. Each coin can be purchased for $0.072 dollars.
Source: Read Full Article