Tron Price Analysis: TRX Well Positioned for 4 Cents, BitTorrent Tokenize
Latest Tron News
Stellar and Tron Twitter armies may be feuding, but the truth is that these two platforms have different objectives.
Like we have mentioned before, Tron is working overtime, drafting engineering and opening virtual offices across the world as they strive to create a blockchain based free content entertainment system. Their goal is to decentralize the web, create an internet of value where users can launch dApps and run smart contracts in a reliable, cheap and fast platform. By coming true and hitting milestones, the rise of TRX has been meteoritic while the platform's popularity has continued to swell.
On the other hand, Stellar is a brainchild of Jed McCaleb, an influencer who is known for juggling—and ditching projects. It may be the sixth largest asset with a market cap of $2.148 billion, but Justin Sun didn't take Jed's insulting comments lightly.
While defending his project, he firmly believes that Stellar is no match to Tron and in 2019, TRX market cap shall surpass that of XLM. Work is already in progress, BitTorrent—a platform used by more than 100 million—and recently acquired by Tron, is launching a Tron based token, BTT.
The TRC-10 tokens will be issued by the BitTorrent Foundation and freely exchangeable between users who want to optimize their downloads.
Tron (TRX) Price Analysis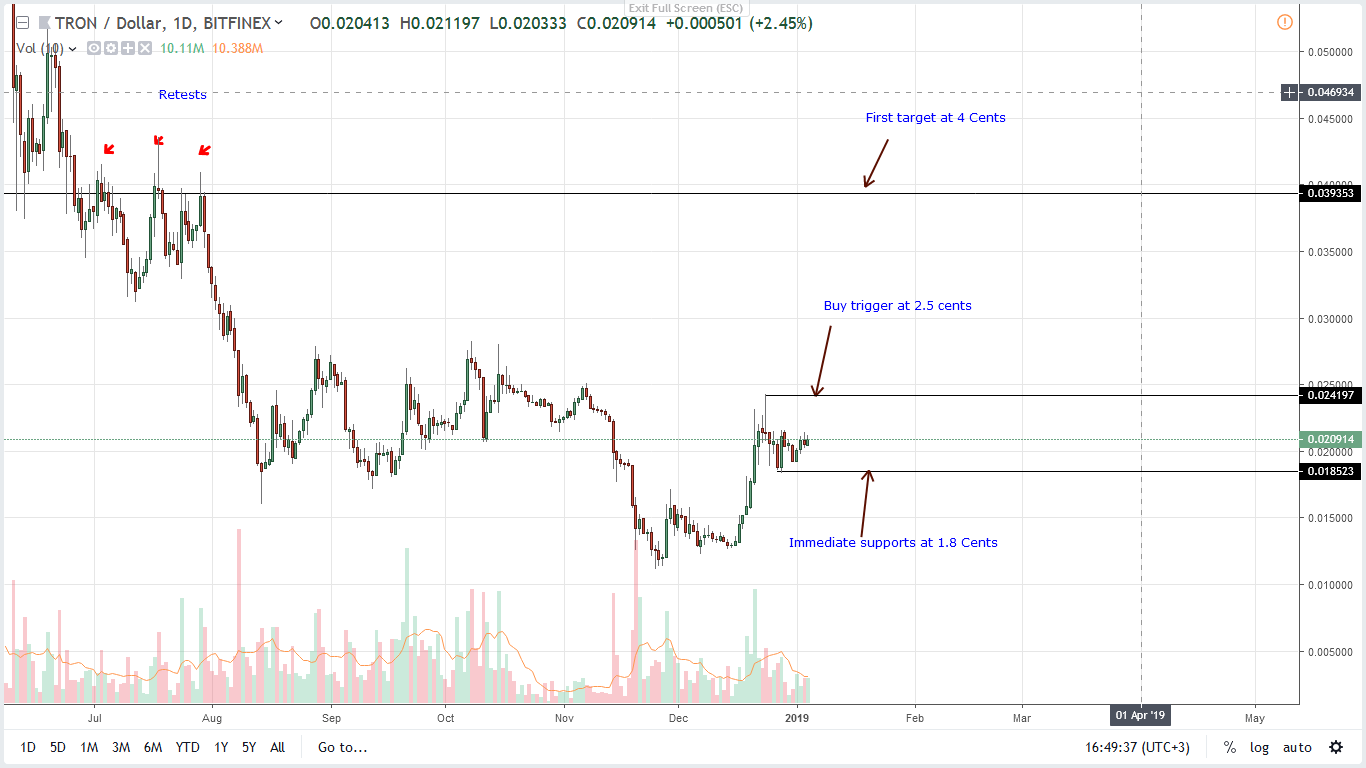 Unlike most coins in the top 10, TRX performance is quite stellar. After ending the year on a high, TRX is up 1.4 percent and 9.8 percent against the USD in the last day and week. It is positive and meshes well with our previous calls for higher highs.
All the same, our last TRX/USD trade plan holds because not only are TRX bulls likely to inch higher but prices are still range-bound within Dec 28 bull bar. If anything, this is bullish further cementing our last stance that there is a shift in demand and TRX prices may, after all, blast above 2.5 cents.
From candlestick alignment, we recommend aggressive traders to load up at spot prices with tight stops at 1.8 cents or Dec 28 lows. Meanwhile, conservatives can wait for better opportunities above 2.5 cents.
Our TRX/USD trade plan will be as follows:
Buy: spot, 2.5 Cents
Stop: 1.8 Cents, 2.1 Cents
Target: 4 Cents
All Charts Courtesy of Trading View
Disclaimer: Views and opinions expressed are those of the author and aren't investment advice. Trading of any form involves risk and so do your due diligence before making a trading decision.
Source: Read Full Article