Analyst Who Predicted 2018's Bitcoin Bottom Says $15k Is Next
Bitcoin has continued to explode higher as the U.S. dollar drops.
BTC trades for $14,500 as of this article's writing, the highest price in over two years.
Analysts think the coin extends higher as the price is still positioned in an uptrend.
Bitcoin Could Hit $15,000 Next, Analysts Say
Bitcoin has continued to explode higher in the face of a strong drop in the U.S. dollar as the election continues. The price of the leading cryptocurrency has reached $14,500 for the first time since January 2018, in a massive win for bulls. BTC is up 6.8% in the past 24 hours, as is Ethereum and a number of other altcoins.
Analysts think that Bitcoin's gains will continue to extend to the upside despite uncertainty about the election.
A historically accurate trader shared the chart seen below amid the move higher. It shows that BTC is trading in an Elliot Wave breakout to the upside, which should take Bitcoin to $15,000 in the coming 24 to 48 hours. BTC rallying to $15,000 from current levels is only another 3.4% of upside, exactly half of the gains incurred today.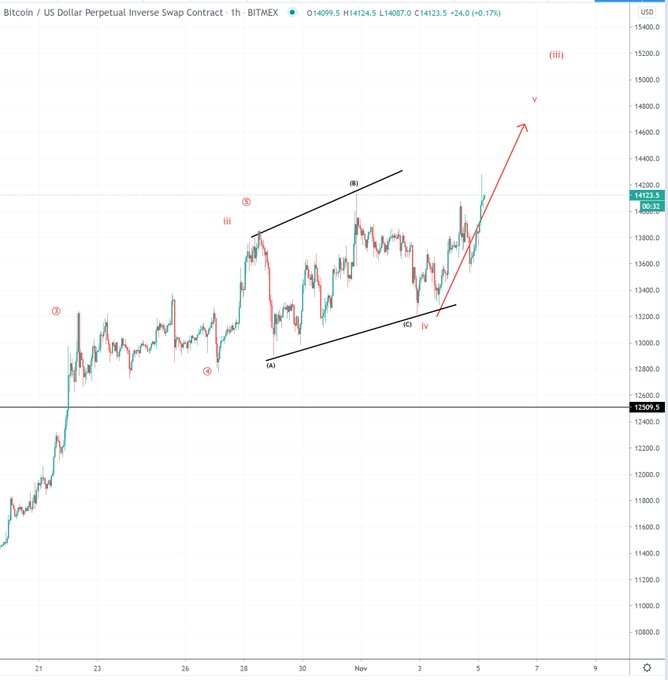 Chart of BTC's price action by SmartContracter (Twitter handle). Source: BTCUSD from TradingView.com
The analyst that shared the chart seen above is the same one that in the middle of 2018 predicted that Bitcoin would hit $3,200 at the lows. BTC bottomed at $3,150 six months after he made his prediction.
While $15,000 seems imminent for Bitcoin bulls, there is little macro resistance until $20,000. Raoul Pal, chief executive of Real Vision, noted two weeks ago that once Bitcoin breaks $14,000, $20,000 is in play.
$14,000 has long been a pivotal level for Bitcoin bulls. The price level marked the 2019 highs to a T while $14,000 is also the level at which 2017's yearly candle closed. Some have argued that $14,000 is even more important to Bitcoin's price action than $20,000.
Election Certainty to Drive Bullish Price Action
Supporting the bull case, global markets are expected to perform well in the wake of the U.S. presidential election.
Analysis shared by the trader "Light" indicates that after the past three elections, capital flooded into equity markets. This indicates that after the U.S. presidential election is decided, investors are more risk-on, and thus siphon capital into markets.
Bitcoin will likely benefit if these capital flows take place once again. While a safe haven asset, Bitcoin is still seen as a "risk-on" asset by some due to its volatility and early-stage nature.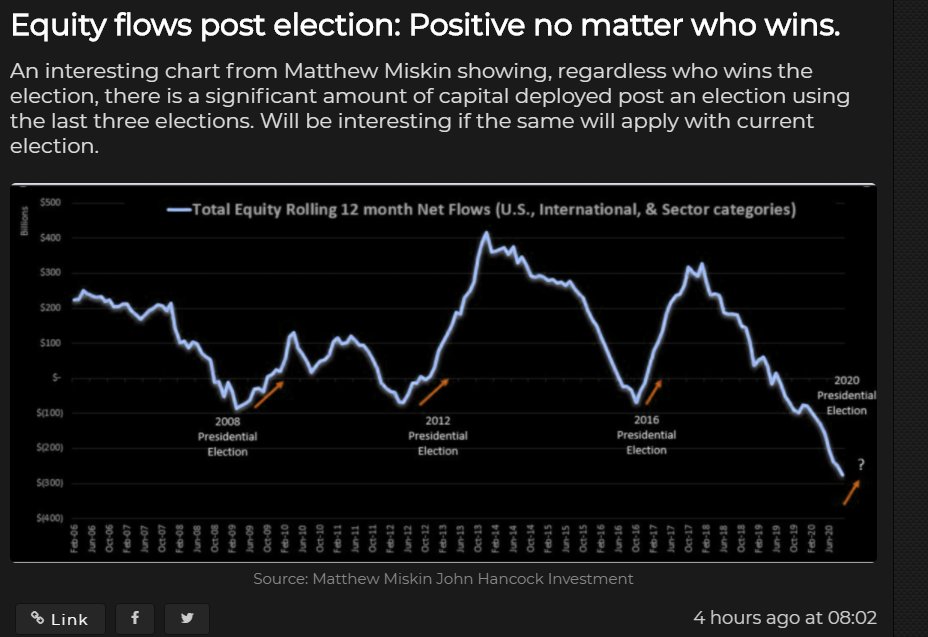 Featured Image from Shutterstock
Price tags: xbtusd, btcusd, btcusdt
Charts from TradingView.com
Analyst Who Predicted 2018's Bitcoin Bottom Says $15k Is Next
Source: Read Full Article