Bitcoin Just Printed This Historically Bullish Uptrend Signal
Bitcoin may be poised to recover further despite weakness in altcoins.
An analyst noted that BTC just bounced off a pivotal moving average.
This moving average Bitcoin held multiple times during the last bull cycle's bull market corrections.
Bitcoin Just Formed This Historically Accurate Uptrend Signal
As noted by a Bitcoin chartist, the leading cryptocurrency just formed an auspicious uptrend signal: after a bull market correction, BTC bounced cleanly off the 128-day simple moving average.
This is important as in bull markets, the cryptocurrency has historically found a bid at this specific support level. Bitcoin doing so now suggests that it is in a long-term uptrend.
"Willy Woo's 128 day MA has done a decent job at signaling support/resistance and is currently offering support."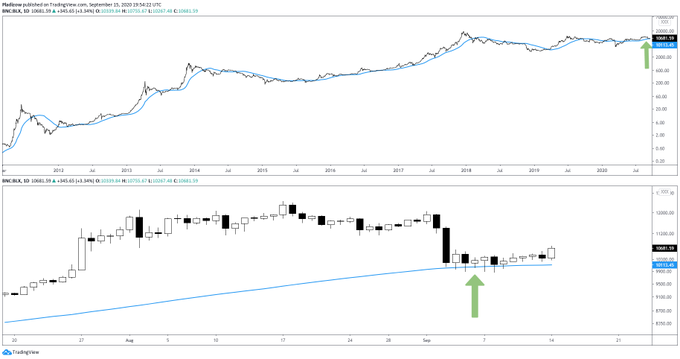 Chart of BTC's price action over the past few years and past few weeks with moving average analysis by crypto trader "Nunya Bizniz" (@pladizow on twitter).
Chart from TradingVIew.com
Willy Woo, who popularized the use of the moving average as per the above analyst, corroborated the veracity of the signal. He did assert, though, that this was not a suggestion for Bitcoin holders to actively trade this simple strategy.
"Simple 128 Day MA back test since 2012. 1 BTC turns into 10.5 BTC. Assumes spot selling to USD when crossing below MA and 0.2% fees. I'm just answering the Q, not recommending HODLers trade"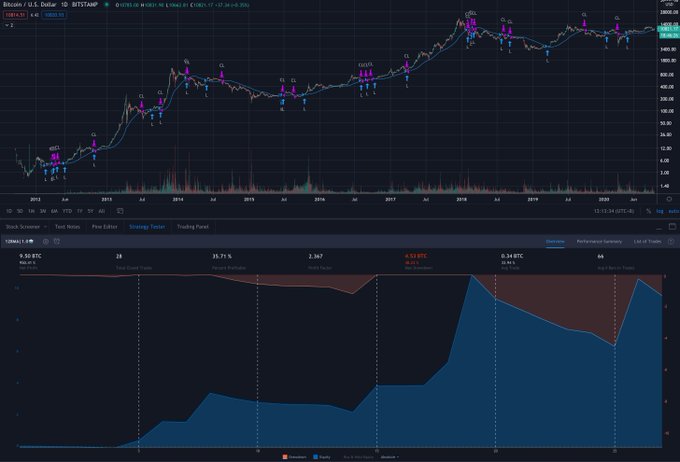 Chart of BTC's price action over the past few years and past few weeks with moving average analysis by crypto trader Willy Woo (@woonomic on twitter).
Chart from TradingViw.com
Not Only Sign Woo Is Bullish
This is not the only indication that Willy Woo is bullish after the stunning correction Bitcoin has seen over recent weeks.
Referencing the chart below, which shows that there recently has been a large surge in BTC changing hands, he wrote:
"Another impulse of coins changing hands has completed, the next directional move over the coming weeks is likely upwards. It's very unlikely we'll see any kind of a catastrophic dump in price from here."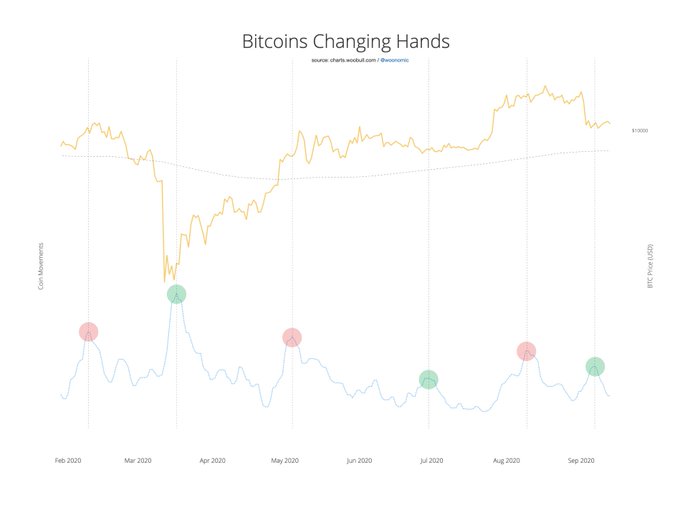 The change in hands in BTC may have been MicroStrategy's latest acquisition worth of BTC. The company, listed on the NASDAQ, bought over 10,000 BTC, which many believe was done through an over-the-counter transaction to avoid slippage.
Woo added that there is a risk, though, of Bitcoin potentially dropping to rapidly fill the CME futures gap:
"I'm still cautious of another short term dump to fill the gap but so far it's looking like it's been front run for liquidity which is strongly bullish if we break resistance here. There's a lot of bids in the spot orderbooks wanting to snap up the gap in the mid-high 9000s."
The bottom line is that Bitcoin's medium to long-term trend remains in a positive state. As Woo explained, "There's plenty of buy support below 10k, this is a buy the dip scenario."
Featured Image from Shutterstock
Price tags: xbtusd, btcusd, btcusdt
Charts from TradingView.com
Bitcoin Just Printed This Historically Bullish Uptrend Signal
Source: Read Full Article