Cityonchain: Build your city, build with BSV
This is a guest contribution by Lise Li. If you would like to submit a contribution please contact Bill Beatty for submission details. Thank you.
Recently, a global commercial application with the name of Cityonchain (CoC for short) emerged in the BSV blockchain network and quickly won a large number of users. Their on-chain transactions have been extremely active.

The CoC development team is based in Hangzhou in China. At an offline BSV event in the Chinese city of Shenzhen on August 4, CoC project manager Asine introduced this interesting project to the public for the first time. He believes that most domestic and international DAPPs are bookmakers, and that there is a gap for a user-friendly and interactive commercial application that benefits the sustainable and healthy development of the public chain, and that CoC could fill this gap.
"A city is a widespread geographical and cultural concept that is accepted by virtually everyone. CoC could extend this to the magnificent world of BSV blockchain. Here, you could find your hometown, a city that means something special to you or a place where you have always dreamt of going," Asine said at the event.
With this aspiration and inspiration in mind, Asine and his team of seven embarked on a journey to create Cityonchain – an on-chain world based on BSV – in June. All team members have extensive experience in application development and a profound understanding of blockchain technology. It only took them slightly over a month before CoC was officially launched online on July 11.
At present, CoC has included more than 9,000 cities worldwide. You can find your favourite city and become its proud "owner", or you can choose to participate in its construction and become a "city visitor". Here, all players are referred to as Chaintizens, people who can engage in city transactions as well as own and construct cities in the long-term.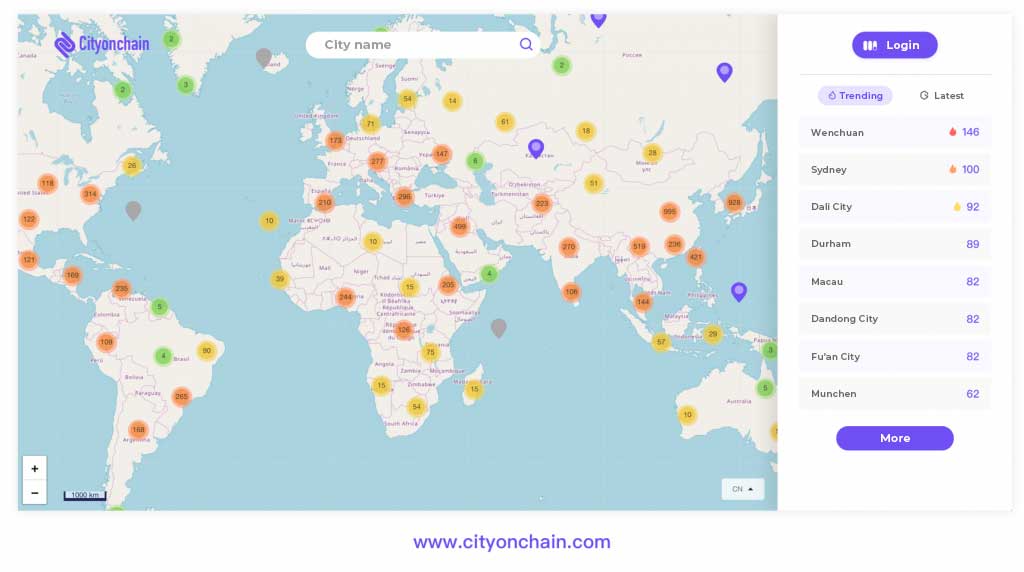 Moreover, an advertising space and a chat room has been established for each city, where players can exchange local information, make friends and upload beautiful pictures. Some cities have even developed their own unique "personalities": for instance, a city in Western China once suffered a major geological disaster and the city owner encourages everyone to leave messages in the city and build it into a place where they share their memories and express hope. Meanwhile, another city shares the same name as that of a renowned singer, so its owner has built it into an "on-chain home" for devoted fans. Another city is particularly poor, so the owner has started a charitable cause to raise funds to help liberate people from poverty and improve their quality of life through BSV. It is believed that more scenarios will be developed with CoC, where players could build their own cities with their imagination and creativity, helping to make this platform increasingly diverse.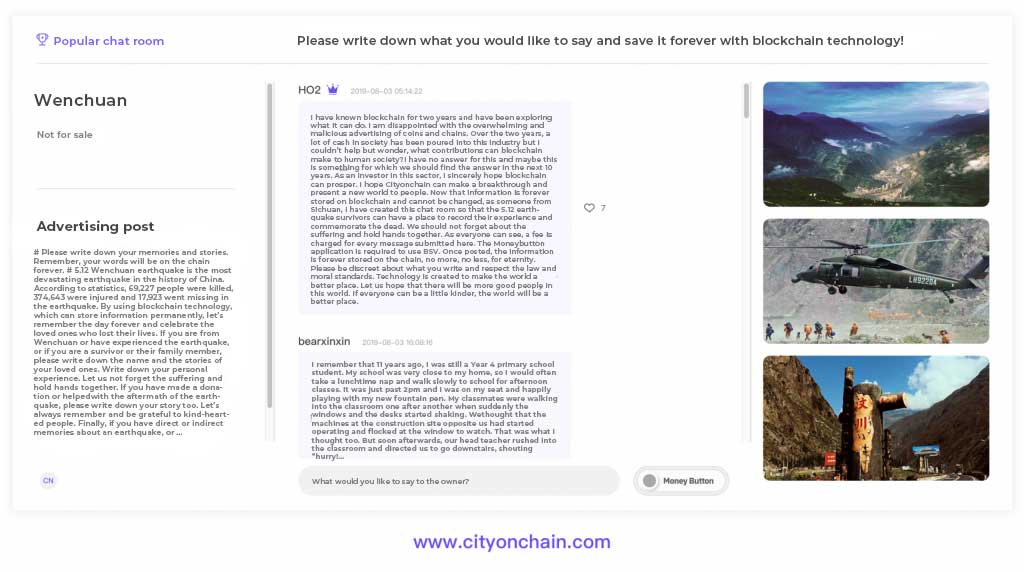 Since July 11, CoC has gained widespread attention and popularity. The CoC team attribute their success to the following factors:
First, the application captures what it means to be a "city" – a geographical and cultural concept that triggers people's sense of recognition and belonging – and extends it into the on-chain world of BSV.
Second, it creates an experience that is similar to the game 'Monopoly'. The development team encourage people to "use and earn BSV" on the CoC platform, which creates a fun incentive mechanism. For example, every comment made in the chat room contributes $0.01 to the city owner and every like rewards the commentator $0.07 and the city owner $0.02.
Third, it has the potential to produce quality content. The local nature of cities has made CoC an ideal environment to post regional information and activities. Encouraged by the incentive mechanism, high-quality content tends to reap generous rewards, which in turn generates more quality content. Through this, CoC has the opportunity to become the most valuable hub for local information and the best access to local online traffic.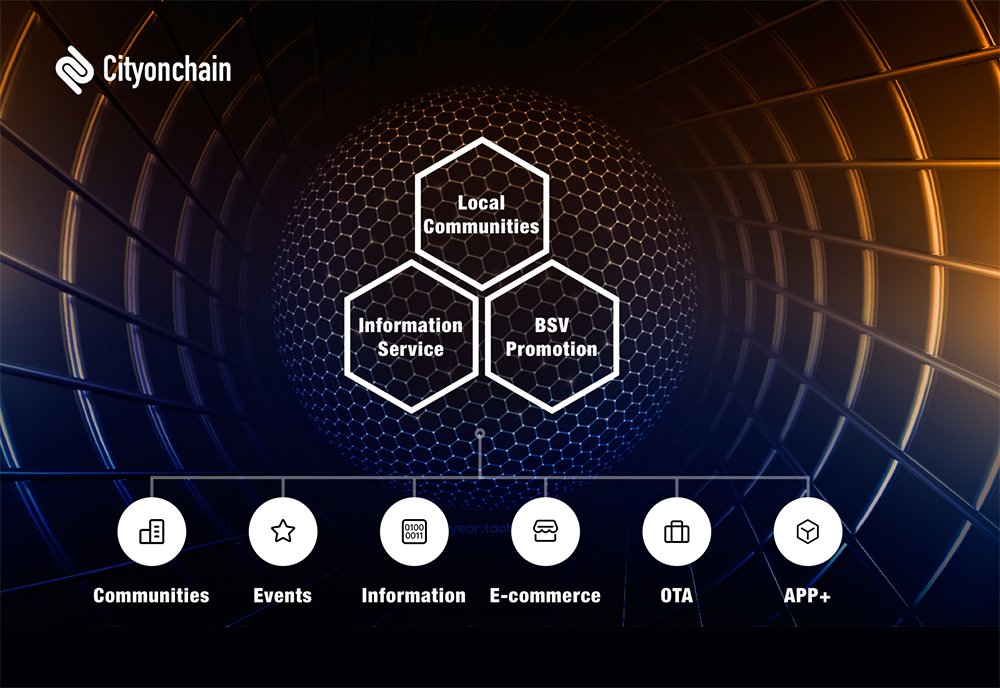 Asine says that the future CoC will be based on city scenarios and will strive to promote local communities, information services and BSV. It aims to provide more than six major products, including urban communities, city events, an information service, business platforms, OTA and applications. The team are committed to inspiring more general users to "reside" in CoC and become Chaintizens by providing better services. CoC is therefore determined to contribute to a healthier and more active BSV ecology.
You can visit the official website of Cityonchain at www.cityonchain.com. To contact the development team, please send an email to [email protected].
Source: Read Full Article