This Industry CEO Hasn't Been This Bullish on Bitcoin Since 2016
Bitcoin's price action has weak over the past few weeks due to a confluence of technical and fundamental trends.
On the fundamentals, BitMEX was charged by the U.S. CFTC, KuCoin was hacked, and President Trump paused stimulus.
Bitcoin currently trades at $10,600 as of this article's writing, far below the $12,500 year-to-date highs.
BTC could soon surge exponentially higher, Civic chief executive Vinny Lingham recently said.
Lingham has been a long-time investor and executive int he industry.
He is among many saying that the fundamentals of Bitcoin are more bullish than ever before.
Others say that BTC may be the only viable investment in the current macroeconomic environment due to vast uncertainty.
Civic CEO Is Extremely Bullish on Bitcoin; $30,000-50,000 Possible In Next Year
Bitcoin has undergone a strong correction in recent weeks from its $12,500 year-to-date high set just five weeks ago. The coin now trades at $10,600 as of this article's writing, far below those highs.
The cryptocurrency is expected to see further losses in the short term if there is weakness in legacy markets.
Vinny Lingham, chief executive of Civic, is unfazed by this prospect, though. Lingham is also a partner at Multicoin Capital, a cryptocurrency fund that has had a focus on DeFi over recent months.
Lingham said that Bitcoin's fundamentals are stronger than ever despite the price action. He says that macro events suggest that the cryptocurrency could surge 200-400% in the coming 12 months.
He added that chances are, there may be a more than 400% rally if we enter "bubble zone":
"I haven't been this bullish on #Bitcoin since 2016. Macro events are teeing us up for another bull run. BTC could go 3-5X in the next 12 months, but if it goes 5X+, we're back to bubble zone. Key indicator is BTC dominance – if it drops below 35% during the run, caveat emptor."
For context, Bitcoin rallying 400% from current levels will mean it trades at $53,000. This is notably a level marked by PlanB, a Bitcoin quantitative analyst. The level has been marked as PlanB's model predicts the coin to hit $55,000 after the 2020 halving.
Far From the Only Bull
Lingham is far from the only bull expecting a parabolic rally in the near future.
Dan Tapiero, co-founder of Gold Bullion Int., recently said on Bitcoin's prospects this market cycle:
"Tremendous long term Log Chart of #Bitcoin projects up 5-10x on this run. Just breaking up NOW. Should last a few years as 2.5yr consolidation is fantastic base for catapult up. Break of old highs will have explosive follow through. Time to sit and be patient."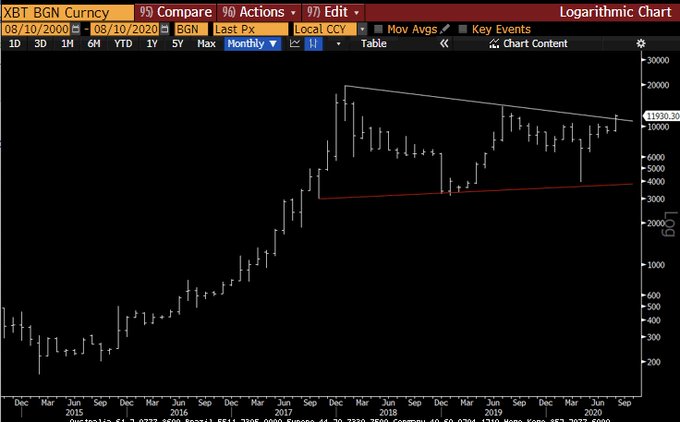 Chart of BTC's macro price action (Logarithimic chart) by Bitcoin bull and gold investor Dan Tapiero. Chart from Bloomberg
Others like Raoul Pal, CEO of Real Vision, also expect exponential growth.
Photo by Timothy Eberly on Unsplash
Price tags: btcusd, btcusdt, xbtusd
Charts from TradingView.com
This Industry CEO Hasn't Been This Bullish on Bitcoin Since 2016
Source: Read Full Article