Tropical City Ravaged by Coronavirus Taken Over by Ecuador Army
Soldiers have taken over street corners in poor neighborhoods. The mayor is answering to an emergency committee run by the army. Hundreds of curfew violators have been detained.
Nowhere has the coronavirus hit harder in Latin America than in Ecuador and nowhere more so than in the steamy coastal business center of Guayaquil, where there is a military-run lockdown. The city and its surroundings account for 70% of the more than 1,200 confirmed cases. The mayor and four other heads of suburbs have all tested positive. Twenty-nine Ecuadorians have died.
Ecuador is a country of 17.5 million people who depend on oil, shrimp, cut flowers and banana exports to keep their dollarized economy humming and this couldn't have come at a worse time.
Hospitals are facing stress even with testing showing a lag of two weeks to get definitive results. So desperate was the Guayaquil mayor, Cynthia Viteri, to protect the population, that she ordered police pickup trucks to the airport to prevent empty European flights from landing to ferry out nationals who were stuck in the quarantine.
Close to 3,000 soldiers have been deployed locally, according to Karla Escobar, an aide to Viteri. "The army is in charge under the emergency committee in coordination with the mayor," she said by phone.
With government finances reeling, private donors have stepped up to pay for and distribute 120,000 food kits to needy families in only a week, said social activist Karla Morales.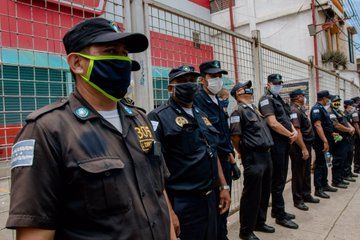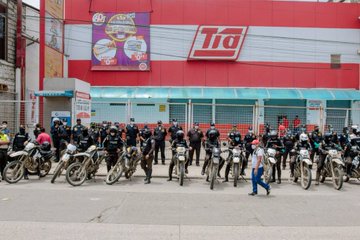 The pandemic in Guayas province, with a population of 4.4 million and where temperatures range from 24 to 31 Celsius (75 to 88 Fahrenheit) in March, has cast doubt on the notion, suggested by some scientists, that Covid-19 wouldn't spread as quickly in warmer weather, as with other viruses. This theory has been the basis for hope that the virus will slow in the Northern Hemisphere in coming months.
Total cases in and around Guayaquil outnumber those of Sao Paulo, Brazil's megacity with 20 million inhabitants in the greater metropolitan area.
The health crisis hits Ecuador at a particularly vulnerable time. The country depends on crude exports for 10% of government revenue and prices have collapsed 54% in the past month.
President Lenin Moreno's government can't print its way out of the crisis since it uses the U.S. dollar as its official currency and the limited spare cash Ecuador has is needed to pay foreign debts. Itsbonds, which have fallen 75% this year — more than any other government securities — resumed losses Wednesday.
On March 23, when faced with a $325 million debt payment with reserves standing at just $3.2 billion, the government rejected calls from Congress to impose a moratorium on its obligations and paid the bond, only the second maturity fully met in its 190 years of independence.
The move begs the question whether other poor nations will be faced with using resources to bolster health care facilities or staying current with international creditors.
The government argued that paying the bond now unlocks $2.5 billion of financing and future foreign debt payments will be re-profiled including the use of grace periods for interest payments to allow focus to shift to the health emergency.
While it arrived relatively late in Latin America, the coronavirus is nowspreading. The initial cases came from affluent world travelers who may have gone to Venice, Italy for the Carnival or skied in Vail, Colorado or conducted business in Wuhan, China. Ecuador's first case came from Spain. As the virus spreads from wealthier citizens who can pay private health care to lower-middle income communities that depend on public health systems, the strain could overrun most countries in what is the world's most unequal region in terms of income disparity.
Moreno, a 67-year-old former vice president to leftist Rafael Correa, swiftlypivoted 180 degrees after winning the presidency in 2017 and embraced pro-market reforms. While he's made attempts to push through changes to put Ecuador on a sustainable debt and growth path with the help of a $4.2 billion credit agreement with the International Monetary Fund, he's run into resistance from powerful indigenous groups.
In October, he was forced to roll back an attempt to end fuel subsidies after protests paralyzed the capital and sent him and his cabinet fleeing to Guayaquil, and now he's facing calls to allow informal workers to break a curfew to hawk their goods in street markets for their livelihood.
"We're waiting for the banks to give us some kind of help," said Roberto Cabrera, 56, who has a walk-up bakery in Guayaquil. "I'm asking a brother for a loan because we live day to day."
In the latest World Bank and World Health Organizationdata available, Ecuador has an average 1.5 hospital beds per 1,000 inhabitants, compared with an average of 2.2 beds in Latin America and the Caribbean.
"If a guy is feeding his family on $5 a day, faced with a choice of going hungry or the risk of contracting the Coronavirus, he'll go out," said Cesar Gonzaga, a security analyst. "For a Guayaquileño, the state doesn't exist, no matter what the government says."
Source: Read Full Article