Wall Street Veteran Kickstarts Own Bitcoin Fund With $25m Investment
Wall Street has been all over Bitcoin over the past few months due to the growth in the need for an inflation hedge and a relative stagnation in the price of gold relative to other asset classes. This much was confirmed just recently when a Wall Street veteran and former White House staffer launched a BTC fund with his own $25 million investment, showing that there is demand for the leading crypto asset.
Scaramucci Kickstarts Bitcoin Fund
According to Yahoo Finance, Anthony Scaramucci, the founder of $9.2 billion fund-of-funds SkyBridge Capital, has launched a Bitcoin fund to enable registered investment advisors (RIAs) to invest in BTC.
SKyBridge, which will be operating the fund, recently filed a Form D with the Securities and Exchange Commission for this new fund.
To kickstart the fund and show that he has faith in it, founder Scaramucci has put $25 million of his own capital into the fund.
He thinks that this fund will allow a broader number of investors to gain exposure to BTC. The issue is that many institutional players or even retail traders find it hard to invest in BTC.
Wall Street Support Swells
In a sign of continued Wall Street support of Bitcoin, the amount of coins on exchanges has been in a steep decline. Referencing the chart seen below, Rafael Schultze Kraft, CTO of Glassnode, recently stated:
"#Bitcoin is in a supply and liquidity crisis. This is extremely bullish! And highly underrated. I believe we will see this significantly reflected in Bitcoin's price in the upcoming months. Let's take a look at the data."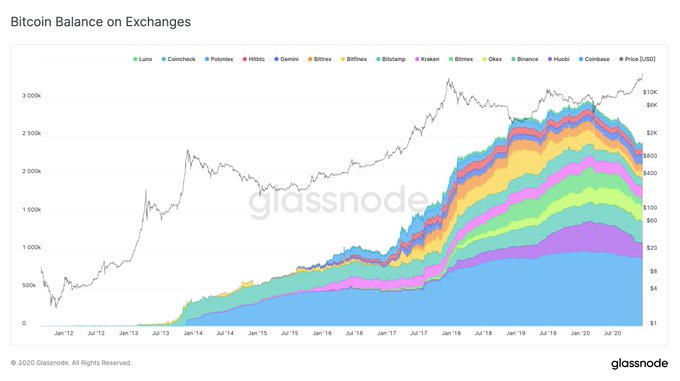 Chart of BTC's price action over the past decade with an on-chain analysis of btc on exchanges from Rafael Schutlze Kraft, CTO of Glassnode
Chart from Glassnode, a crypto data source
#Bitcoin is in a supply and liquidity crisis.

This is extremely bullish! And highly underrated.

I believe we will see this significantly reflected in Bitcoin's price in the upcoming months.

Let's take a look at the data.

A thread 👇👇👇 pic.twitter.com/vx6rJmiloE

— Rafael Schultze-Kraft (@n3ocortex) December 21, 2020

A large buyer of these coins is MicroStrategy. The American business services company wrote in a press release published earlier this week that it has purchased $650,000,000 worth of BTC:

"TYSONS CORNER, Va.–(BUSINESS WIRE)–Dec. 21, 2020– MicroStrategy® Incorporated (Nasdaq: MSTR) (the "Company"), the largest independent publicly-traded business intelligence company, today announced that it had purchased an additional approximately 29,646 bitcoins for approximately $650.0 million in cash in accordance with its Treasury Reserve Policy, at an average price of approximately $21,925 per bitcoin, inclusive of fees and expenses."

The company believes that BTC will appreciate over time to outpace the growth in the value of its debt, as it purchased these coins with debt generated through the sale of senior convertible notes.

Source: Read Full Article