The Federal Reserve signals rate hikes in 2022
A version of this story first appeared in CNN Business' Before the Bell newsletter. Not a subscriber? You can sign up right here. You can listen to an audio version of the newsletter by clicking the same link.
London (CNN Business)Snarled supply chains, rising energy costs and skyrocketing commodity prices have caused inflation to spike. But what you think about prices will help determine whether inflation stays elevated or quickly drops.
That's right. Economists believe that our collective expectations for inflation play an important role in determining future prices, forcing central banks to pay close attention to what households and investors are thinking.
It works like this: If inflation expectations rise, consumers will buy more goods today instead of waiting until they are more expensive. At the same time, workers will demand higher wages and companies will put up prices.
All of which causes inflation to rise.
As a result, central bankers spend lots of time trying to get inside the head of consumers. But the psychology of prices remains poorly understood.
Our attitudes about inflation appear to be shaped by factors including politics, and whether the party we support is in power. Inflation expectations can also be influenced by time and age — some Americans can't remember a period of high inflation, while others have been scarred by the experience.
The big question for central banks, including the US Federal Reserve, is whether inflation expectations will become "un-anchored," which happens when long-run inflation expectations move away from their inflation target.
That's what happened in the 1970s and 1980s in the United States. Federal Reserve Chair Paul Volcker was ultimately forced to jack up interest rates to unprecedented levels to get inflation under control.
Federal Reserve Chair Jerome Powell said last week that he doesn't believe inflation is a runaway train. So far, the Fed thinks inflation is manageable and mainly caused by the supply chain crisis and the labor shortage. But the central bank doesn't exactly have a great track record on predicting when inflation will ebb and flow.
US consumer price inflation rose by 6.8% over the 12 months ended November, a level not seen since 1982.
What do people think will happen in the future?
One measure of expectations is the breakeven inflation rate, which compares the yield on US Treasury bonds to similar securities that are protected against inflation. The difference tells you how much inflation investors expect.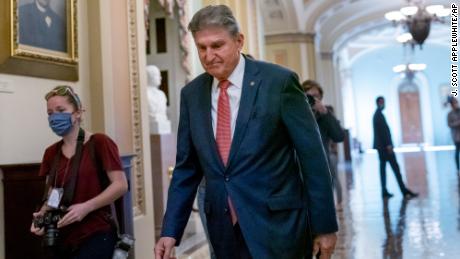 The five-year breakeven inflation rate stands at 2.7%. The 10-year breakeven inflation rate is 2.4%. Both of those figures are higher than before the pandemic, but they're not too far off the Federal Reserve's 2% target.
Do everyday Americans have the same view as investors? Survey data from the Federal Reserve Bank of New York shows that consumers expect inflation to be 6% a year from now, but only 4% in three years time.
Age is a big factor. Americans under the age of 40 expect inflation to be 3.5% in three years, while people over the age of 59 — many of whom are on fixed incomes — expect 4.7% inflation.
Where do you think inflation is headed? The Fed wants to know.
China's economic growth will slow sharply in 2022
The World Bank has cut its forecasts for China's economic growth this year and next, as the world's second largest economy faces headwinds from the Omicron variant and a severe property sector downturn.
The numbers: The World Bank now expects China's GDP to expand 8% in 2021 compared with a year ago — that's lower than its previous forecasts. In October, the bank expected China to grow 8.1% this year. In June, it projected a growth of 8.5%.
It also cut its 2022 forecast from 5.4% to 5.1%, which would mark the second-slowest pace of growth for China since 1990 — when the country's economy increased 3.9% following international sanctions related to the 1989 Tiananmen Square massacre. China's economy grew 2.2% in 2020.
"Downside risks to China's economic outlook have increased," the World Bank said Wednesday in its latest report on China's economy.
Risk profile: Renewed domestic Covid outbreaks, including of the Omicron variant, could lead to more "broad-based and longer-lasting" restrictions and cause further disruptions to economic activity, it said.
In addition, "a severe and prolonged downturn" in the highly leveraged property sector might have significant reverberations across the economy.
China was the only major economy to record growth in 2020, but this year it has been dealing with pandemic-related curbs, an energy crunch and an unprecedented crackdown on private enterprises.
Cooking is out. Campbell's soup is in again
Early in the Covid-19 pandemic, everybody stuck at home tried their hand at cooking. People posted photos of their elaborate dishes on social media with hashtags like #Coronavriuscooking, and baking sales boomed.
Almost two years later, people have given up on their dreams of being a celebrity chef, reports my CNN Business colleague Nathaniel Meyersohn.
Consumers increasingly are opting for speedy meals and on-the-go bites as they commute back and forth from their offices, spend more time outside their homes and kids go back to schools, say top food brands like Campbell Soup, Conagra, General Mills, Kellogg, Amy's Kitchen and others.
"We want all the yum without as much fuss," said Emily Porter, who lives in Charleston, West Virginia. "The abundance of free time we had in spring of 2020 is pretty much nonexistent now."
Food manufacturers are attempting to respond to this shift in behavior by offering more convenient, healthier meals and snack bars.
The trend: Campbell has noticed a shift in cooking habits based on surveys it conducts with consumers. While many people are still eating more at home than they were before the pandemic, Campbell says consumers are indicating that they want quicker lunches while they work from home or eat at the office. They also want easily prepared dinners after a long day. Campbell says consumers aim to make dinner in an average of under 18 minutes.
In response, Campbell is advertising its Chunky soup brand as a lunchtime meal — "Lunchtime Is Your Halftime" — and Prego sauces as a quick recipe option. It's also creating more versions of Well Yes! microwavable soup bowls and Crunch Ins, a line of crackers and soup.
Don't forget snacks: This shift is also showing up in sales growth for foods like snack bars, which declined 4.7% in 2020 but are back up about the same amount so far this year, according to data from IRI.
General Mills CEO Jeffrey Harmening said in September that the company has "seen an uptick" in categories such as snack and cereal bars as "consumers get to be more on the go."
Up next
Earnings from CarMax are out before the opening bell.
Also today:
US consumer confidence for December at 10:00 a.m. ET
US existing home sales at 10:00 a.m. ET
Coming tomorrow: US initial jobless claims and personal income
Source: Read Full Article