LocalBitcoins restricted to only 10 states
LocalBitcoins, the peer to peer BTC marketplace, has announced that it will be restricting its operations to only ten states–Illinois, Kansas, Montana, New Hampshire, New Jersey, Pennsylvania, Tennessee, Texas, Virginia, and Wisconsin. That being said, LocalBitcoins will be suspending trading in 13 states–Florida, Connecticut, Utah, Arkansas, Nevada, Nebraska, Mississippi, Iowa, District of Columbia, North Dakota, Minnesota, Kentucky, and Vermont–and says they will begin closing customer accounts in prohibited areas within the next two weeks. 
LocalBitcoin says that once they begin closing prohibited-location user's accounts, that users will have the ability to make one last withdrawal so that they can transfer their remaining balance out of their LocalBitcoins wallet.
This news was initially made public via a Reddit post that has since been deleted.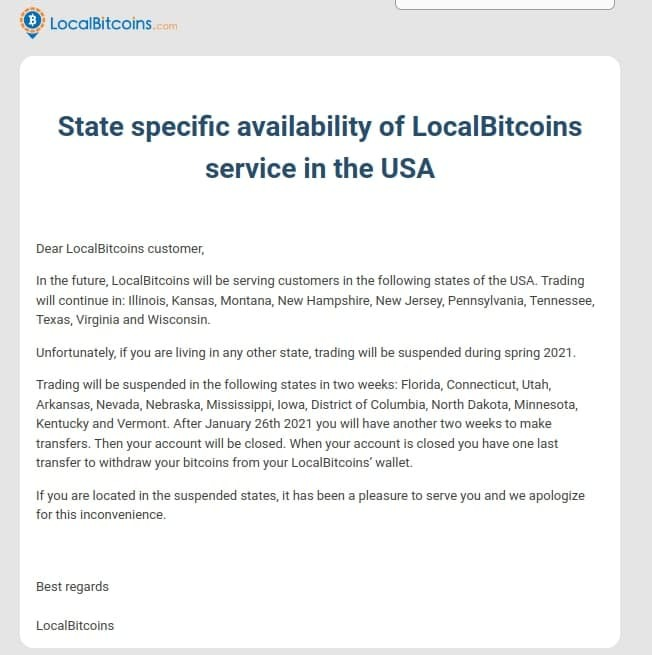 A grey economy
LocalBitcoins has always operated in a grey market. Although LocalBitcoin does not sell its users any digital currency itself, it connects interested digital currency buyers with a seller–which puts a lot of legal liability on the digital currency seller.
In the past, we have seen LocalBitcoin power sellers get arrested and sued for operating an unlicensed money transmitting business. We have also learned through research done by CipherTrace that LocalBitcoins received 99% of all criminal funds in circulation during the first half of 2020.
And until 2019, LocalBitcoins did not have any Know Your Customer or anti-money laundering safeguards in place.
So why change now?
LocalBitcoins may have made this decision because the US government has been cracking down on digital currency businesses that provide service in the USA illegally. In December, we saw the SEC press charges against Ripple for conducting an unregistered securities sale. In October, we saw the CFTC and DOJ press charges against BitMEX for running an unregistered trading platform as well as violating anti-money laundering and know-your-customer regulations, and for violating the Bank Secrecy Act, respectively
It seems like the US government is picking and choosing which businesses they go after at the moment. However, LocalBitcoins is a large business that was used throughout the United States, so it would not be surprising to learn that Localbitcoins has been on the US government's radar.
Source: Read Full Article