The take-off and crash-landing of Jet's Naresh Goyal
In a dramatic turn of events in May 2019, an Emirates aircraft en-route to Dubai was asked to stop while it was taxiing for a take off in Mumbai.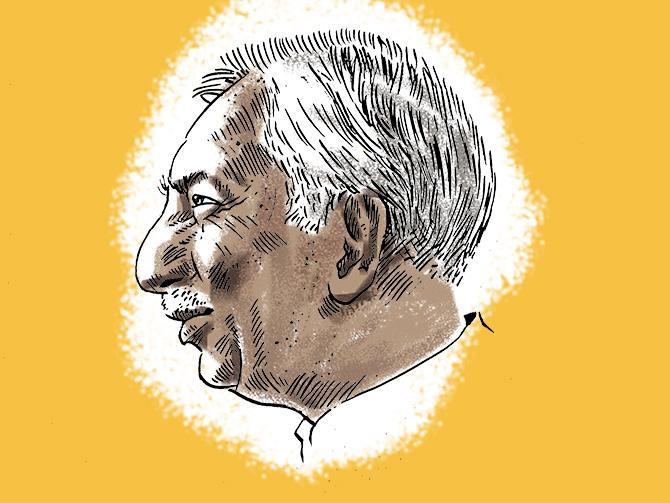 The pilot was given no reason and ordered to immediately return to the parking bay.
As the aircraft returned to the terminal, two passengers from the first class — Naresh Goyal and his wife Anita — were offloaded by the immigration authorities, who said the duo cannot leave the country.
Goyal, founder of Jet Airways, was stunned.
The man, who ruled the aviation sector for two and a half decades with an iron hand, did not expect to be offloaded in this fashion.
From then onward, Goyal's fortunes had been heading south.
The airline, which had shut shop in April 2019, owed over Rs 8,500 crore to Indian banks and its total dues to various stakeholders and employees are a staggering Rs 25,000 crore.
It owed passengers, who had booked their tickets in advance, another Rs 3,500 crore.
The Centre had been cracking the whip against bank defaulters, who were not allowed to leave the country.
Bank officials were given the power to issue look out notices against the defaulters.
Beginning his career as a cashier at his uncle's travel agency, Goyal initially sold seats and cargo loads for various airlines.
Later, he took wings by launching Jet in 1993.
Goyal's earlier career in the aviation industry allowed him to establish strong relationships with airlines worldwide.
He was regularly seen at the annual general meetings of the International Air Transport Association (IATA), a global airline lobby group with about 300 carriers as its members.
Jet Airways, one of the first private airlines to start when the aviation sector was opened up in the early 1990s, managed to carve a niche for itself.
The airline crushed competition with its super service, on-time performance and, of course, friends at high places across the political spectrum.
At one point, Bollywood star Shah Rukh Khan and lyricist-poet Javed Akhtar were members of the airline's board of directors.
With his strong connections, Goyal even managed to keep the Tatas out of the aviation sector for a long time.
The Tata group was frustrated with the policy flip-flops of the Congress government, which kept it out of the sector despite commitment from Singapore Airlines to come in as a joint venture partner.
Jet was among the few airlines to survive for over 25 years, despite several regime changes and policy flip-flops, which resulted in the death of rival airlines but suited Goyal.
But it's the acquisition of Air Sahara in 2006 by Jet that turned out to be a disaster for Goyal.
The Air Sahara acquisition, despite being questioned by Goyal's close colleagues for its high cost, was pursued relentlessly and eventually consummated.
Jet Airways rebranded Air Sahara as JetLite, but the acquisition strained its resources. In 2015, Jet Airways wrote off its entire Rs 1,800 crore investment in JetLite.
Goyal, well known for throwing lavish parties for India's who's who in Goa, forged tie-ups with global airlines and influenced the policy environment.
He was the first beneficiary of the revised foreign direct investment (FDI) rules to allow global carriers to invest in Indian airlines.
In 2013, Etihad Airways of Abu Dhabi picked a 24 per cent stake in Jet. Four years later, Jet teamed up with Air France-KLM for an enhanced commercial partnership.
But these weren't enough to save the airline, dragged down by high debt.
Goyal's unwillingness to cede control, his frosty relations with Etihad, and reluctance of banks to lend more prevented a rescue.
The airline operated its last flight in April 2019.
Goyal, who has been accused of siphoning off the airline's funds, is now waging a legal battle against the investigating agencies.
After the airline shut down, the lenders auctioned it to a consortium, which has failed to pay banks the full amount till date.
With his arrest on Friday, Goyal will join several other business leaders, who are now in various Mumbai jails for alleged financial crimes.
These include Unitech promoter Sanjay Chandra, the Wadhawan brothers of DHFL group, Rana Kapoor, former managing director (MD) and chief executive officer (CEO) of YES Bank and Rakesh and Sarang Wadhawan of HDIL.
"Goyal was offered an exit route by several airlines in the past but he rejected all offers.
"The airline could have been saved but he was not willing to give up control.
"He even signed a deal with Kingfisher Airlines but both Vijay Mallya (of Kingfisher) and he did not budge from their positions.
"So, both the airlines failed, starting with Kingfisher in October 2012.
"At the end, everyone lost," said a former Jet Airways employee.
Source: Read Full Article