Bitcoin Explodes Past $37,500 Amid Rapid Recovery
Bitcoin plunged as low as $34,500 on top spot exchanges last hour as selling pressure picked up ahead of the weekly close. The cryptocurrency fell as low as $35,000 on futures exchanges as well, though spot sellers were leading the correction.
While some began to fear that a deeper correction was in store, buyers stepped in at key technical levels.
The cryptocurrency has since bounced to $38,000 as of this article's writing.
A crypto-asset analyst shared the chart seen below in the wake of the bounce, noting how Bitcoin held key technical levels during the drop. The chart shows that Bitcoin's BitMEX market maintained the $35,000 support, along with a number of other moving averages that have held quite well over the past few weeks.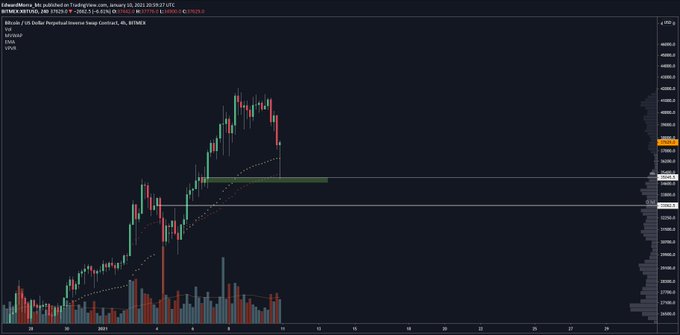 Chart of BTC's price action over the past two weeks from crypto-asset analyst "Edward Morra". Chart from TradingView.com
Related Reading: Wall Street Veteran Kickstarts Own Bitcoin Fund With $25m Investment
High Funding Rates Still of Concern
While Bitcoin held the drop well, analysts still note that a cause for concern is the extremely high funding rates seen in the crypto-asset futures markets.
The funding rate is the reoccurring fee that long positions pay short positions. This system ensures that the price of the future naturally gravitates to the price of the spot market over time.
The funding rates in the Bitcoin and Ethereum futures markets are skewed to the positive right now.
On Binance, it costs users 0.1% every ten hours to long BTC, while it costs even more on other derivatives platforms.
It costs even more to long Ethereum on those same platforms.
Even still, the recent bounce has analysts convinced that the overall bull trend remains intact. One trader noted that the recent bounce looks extremely similar to the bounce BTC experienced early this week, when it similarly plunged to the $34,000-35,000 region before returning higher.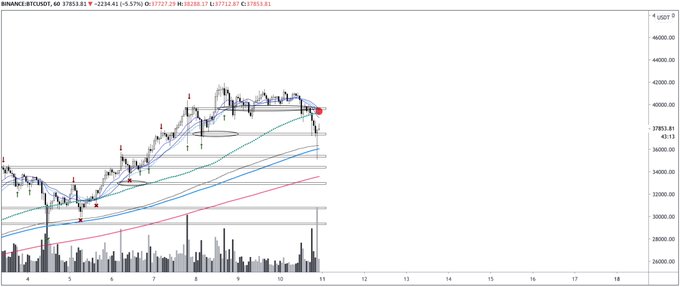 Source: Read Full Article