Curve (CRV) Trading Volume Plunge 97% In 2 Months
Trading volumes associated with CRV, the governance token of Curve, a stablecoin decentralized exchange (DEX), is down 97% barely two months after it was hacked in late July 2023. According to Kaiko, CRV's trading volume in centralized exchanges, especially Binance, where the token is actively traded, fell from nearly $300 million in late July to $7 million as of September 12.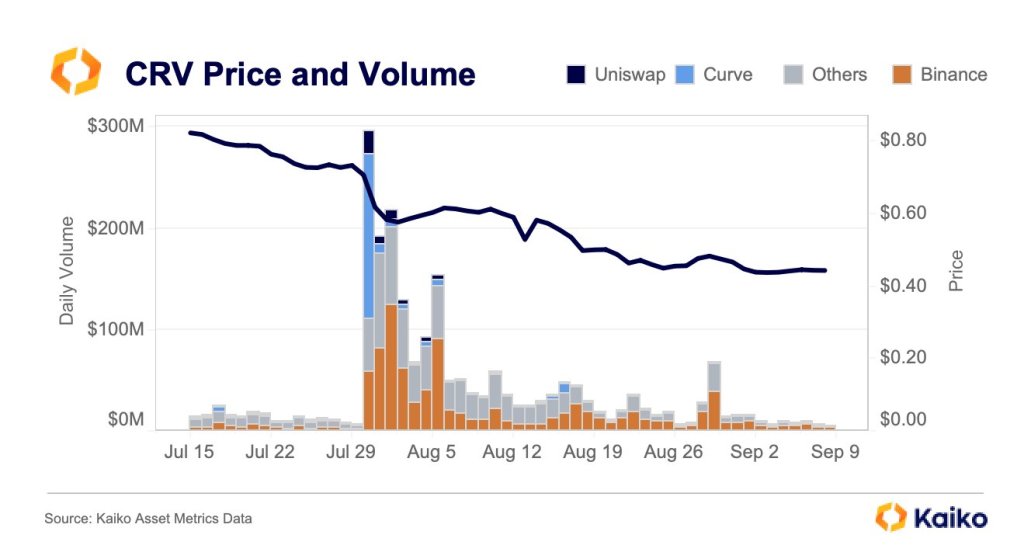 Trackers show that CRV is available for trading in multiple centralized and decentralized exchanges, including Binance, Uniswap, and Curve. However, considering the popularity and liquidity standing of Binance, most CRV trading was concentrated on the world's popular crypto exchange.
To illustrate, Binance's share of CRV trading is about 20% when writing, while Bitbox is next with a dominance of around 7%. 
Curve's TVL, Price, And Trading Volumes Collapse
In crypto, a drop in trading volume often indicates waning interest in a digital asset or general caution practiced by investors. With falling volume, the asset's liquidity takes a hit as traders or investors opt out, even liquidating the coin as they choose stability and refuge. Sometimes, they can adopt a wait-and-see approach, evaluating how the token will react in light of changing market conditions. 
According to DeFiLlama, Curve has a total value locked (TVL) of approximately $2.17 billion, down from $3.25 billion when the protocol was hacked. The decline in TVL and trading volumes comes amid the general lull in the decentralized finance (DeFi) scene.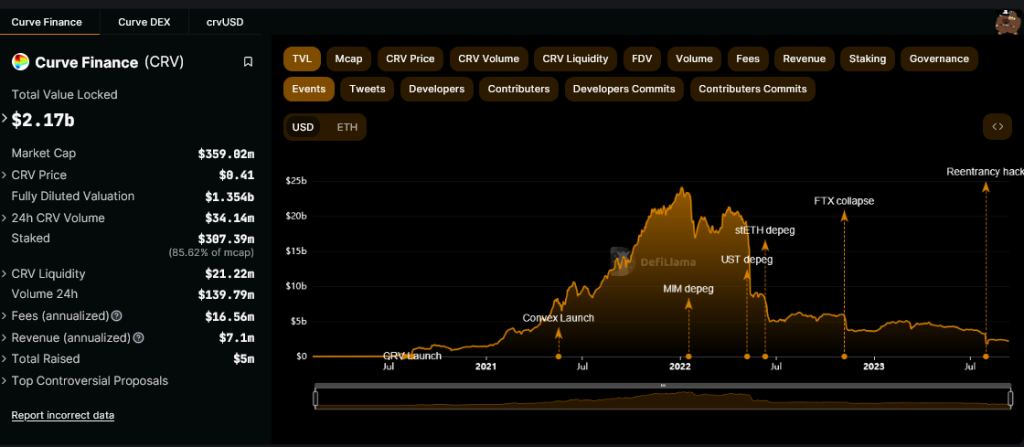 The drop in CRV valuation and trading volumes was worsened by the July exploit, which saw the protocol lose over $50 million worth of assets. Although Curve recovered most of those funds, the effect of the exploit called into question the general state of security.
The Hack And Erogov's CRV Disposal
In the July hack, malicious actors exploited various Curve stablecoin pools using older versions of Vyper, a programming language used to create smart contracts on Ethereum. All Curve's pools are automated, and this feature allowed hackers to drain multiple pools through a re-entrancy attack. 
CRV reacted to this hack by dropping, falling sharply on July 30 from around $0.74 to $0.48. It has since exceeded halved, crashing to $0.40, a new 2023 low. 
During this time, Curve's CEO, Michael Egorov, had to sell CRV holdings he had used to back his loans via over-the-counter (OTC) to entities and individuals such as Justin Sun when prices started falling. Egorov had taken out loans on Aave and Frax Finance secured by CRV. 
Source: Read Full Article