Dogecoin FUD Vs. HODLers: Will The $0.06 Support Level Hold?
Dogecoin (DOGE) has had its share of ups and downs. Recently, as the altcoin market experienced a significant selloff, DOGE found itself caught in the turmoil, succumbing to substantial outflows earlier in the week. 
This downturn had a critical consequence, as it sent the coin's price plummeting below a crucial support trendline that had been instrumental in propping up DOGE for over three weeks. 
As the market sentiment shifted, this breakdown raised concerns about the future trajectory of Dogecoin, hinting at a possible continuation of the downtrend and further price declines.
Dogecoin Breakdown And Retest
On a fateful Monday, DOGE's price decisively breached the support trendline, taking a nosedive to reach a low of $0.0593. However, the cryptocurrency market is known for its swift and unpredictable moves, and DOGE was no exception. 
Bulls promptly rallied, pushing the price up in a retest of the very trendline that had turned into resistance. At the time of writing, the current DOGE price stands at $0.061452, with a 24-hour gain of 0.5% and a seven-day dip of 3.0%.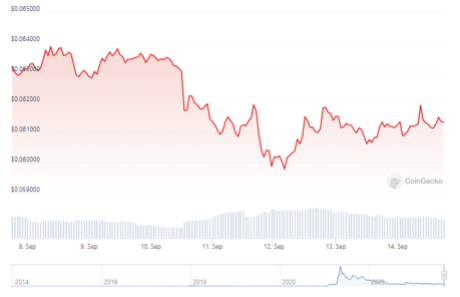 DOGE seven-day price action. Source: Coingecko
The critical question now is whether this retest phase will demonstrate the sustainability of DOGE's price below the trendline. If it does, the outlook for Dogecoin, according to a price analysis, remains uncertain, with the potential for an additional decline of approximately 8%, targeting the $0.056 zone. Traders and investors are keenly watching this juncture, as it may dictate DOGE's short-term future.
Longer-Term Assessment On The Meme Coin
Beyond the immediate challenges, some analysts have offered a longer-term perspective on Dogecoin. A separate report suggests a Dogecoin price prediction of $0.10 by the time the next decade rolls around, representing a major 68% increase. 
This prediction raises eyebrows, considering DOGE's history of meteoric rises. However, it's essential to remember that past performance in the fast-paced crypto world doesn't always indicate future results.
DOGE market cap still below $9 billion. Chart: TradingView.com
The Dogecoin Dilemma
While Dogecoin undeniably boasts a loyal fanbase and a handful of celebrity endorsements, it hasn't showcased the same level of aggressive growth strategy or innovative features as some of its younger counterparts, like Shiba Inu.
As the cryptocurrency landscape continues to evolve, DOGE faces the challenge of staying relevant and competitive in a field where innovation and adaptability are highly prized.
And, as Dogecoin finds itself at a critical juncture, its price is teetering on a support-turned-resistance trendline. The broader altcoin market's performance and investor sentiment will likely play a pivotal role in determining DOGE's near-term fate. 
(This site's content should not be construed as investment advice. Investing involves risk. When you invest, your capital is subject to risk).
Featured image from iStock
Source: Read Full Article