Dogecoin Future In Question: What's Next After Today's Drop?
Dogecoin (DOGE), the beloved meme cryptocurrency that has captured the hearts of retail traders and internet enthusiasts, faced a critical juncture today as it witnessed a significant bearish breakdown below its key ascending support trendline. This trendline, which had offered a glimmer of hope to DOGE holders, seemed to be the last line of defense against a further price decline.
In the latest price analysis, DOGE recorded a 6% dip, pushing its value below the pivotal support trendline. At the time of writing, Dogecoin was trading at $0.061346 according to CoinGecko, reflecting a 0.9% decline in the past 24 hours and a 3.6% slump over the past week.
DOGE Bearish Territory Looms
Typically, such a break below a crucial support level grants sellers an enhanced edge in the market, potentially pushing DOGE further into bearish territory. However, amidst the price decline, the daily candle revealed an intriguing twist. Dogecoin experienced a stark rejection near the $0.06 threshold, signifying that buyers were jumping in at these lower price points.
The broader altcoin market also experienced a decline on Sunday, partially fueled by anticipation over crucial regulatory developments. Regulatory concerns have been weighing heavily on the cryptocurrency space, leading to increased volatility and uncertainty.
DOGE market cap currently at $8.5 billion. Chart: TradingView.com
Furthermore, the Grayscale Ethereum Trust (ETHE) made headlines as it saw its discount to net asset value narrow to the lowest point in a year. This development, alongside the broader market sentiment, has raised questions about the future trajectory of cryptocurrencies like Dogecoin.
What Lies Ahead For Dogecoin?
As Dogecoin grapples with this significant breakdown of its support trendline, many in the cryptocurrency community are left wondering about its immediate future. Will the rejection near the $0.06 mark be enough to spark a reversal, or is DOGE headed for an extended correction?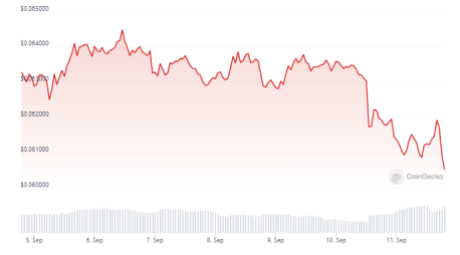 DOGE seven-day price action. Source: Coingecko
Keeping An Eye On DOGE Price Movement
In the world of cryptocurrencies, sentiment can shift rapidly, and a single piece of news or a notable price move can alter the course of a coin's trajectory. As such, traders and enthusiasts alike will be closely monitoring Dogecoin's price action in the coming days to determine whether this beloved meme coin can bounce back from this setback or if it will continue to tread in bearish territory.
Dogecoin's recent bearish breakdown below its support trendline has raised concerns among its holders and the wider cryptocurrency community. While the rejection near the $0.06 threshold provides a glimmer of hope, the altcoin market remains highly sensitive to regulatory developments and external factors.
(This site's content should not be construed as investment advice. Investing involves risk. When you invest, your capital is subject to risk).
Featured image from Hill's Pet Nutrition
Source: Read Full Article