PERP Spikes 90%, Perpetual Protocol Foundation Sends Tokens To Binance: Is This Good
PERP, the native token of Perpetual Protocol, is one of the top-performing assets, looking at price action in the past 48 hours. As of September 6, the token is changing hands at $0.78, adding roughly 90% from August 2023 highs. 
Amid this stellar performance, reports reveal that the Perpetual Protocol Foundation has transferred 903,000 PERP worth approximately $691,000 to Binance, the world's largest cryptocurrency exchange by trading volumes and client count.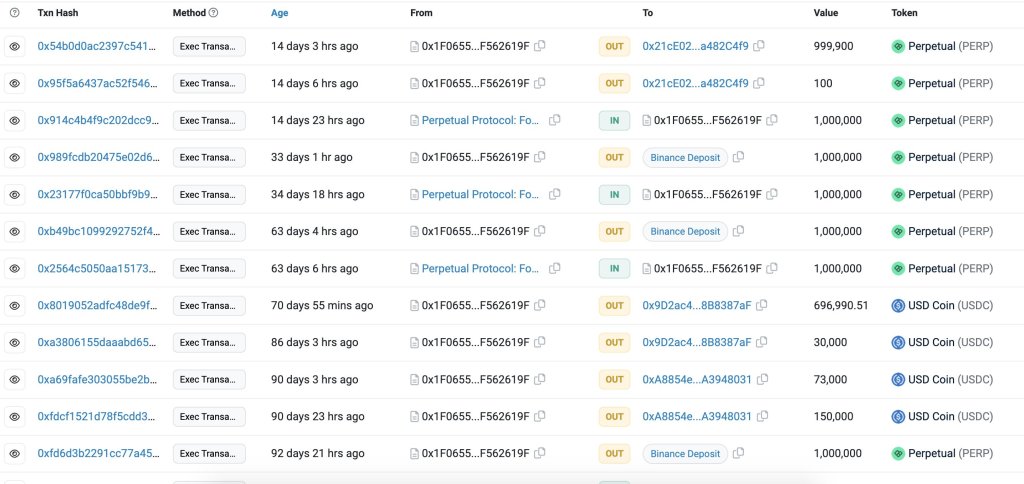 PERP Ripping Higher After Dumping In Q2 2023
According to Lookonchain, a blockchain analytic platform, the wallet associated with the foundation has been regularly moving tokens to Binance in the past few months, starting from March. At that time, PERP was trading at a relatively higher price, at around $1, looking at trackers like CoinMarketCap. Since then, however, the token has been on a downtrend. 
To illustrate, after peaking at about $1.22 in early March, PERP tanked by over 65% to $0.38 in June. A marginal increase from July before prices contracted to around $0.40 in August, bouncing to spot rates in the past few trading sessions.
Looking at the PERP/USDT candlestick arrangement in the daily chart, buyers have the upper hand after a clear double bottom was printed following gains in early September. Whether the uptrend will continue and PERP has effectively bottomed after a rough few months is yet to be seen. What's clear is that buyers appear to be in control, and PERP is trading at April 2023 levels, peeling back losses of the past four months.
Perpetual Protocol TVL Remains Depressed, Will The Foundation Sell?
Perpetual Protocol is a popular decentralized finance (DeFi) protocol allowing users to trade crypto perpetual futures with leverage trustlessly. Perpetuals are complex derivatives products with no expiry dates.
Perpetual Protocol also supports concentrated liquidity, a feature first introduced in Uniswap v3. Moreover, it allows leverage of up to 10X.
Through this exchange, DeFi users have an alternative to Binance or Coinbase, both centralized options. By September 6, the exchange's total value locked (TVL) was steady at around $12 million, down from $18 million in late July 2023. Of note, PERP is rallying without any sharp increment in TVL, as DefiLlama data shows. 

Typically, outflow from a non-custodial wallet to a centralized exchange is interpreted as bearish in crypto circles. So far, trackers reveal that the Perpetual Protocol Foundation has 7 million PERP in Binance worth over $4.62 million. It is also not clear whether they plan to sell.
Source: Read Full Article