The new British prime minister inherits a poisoned chalice
London: Different jockey, same horse.
The United Kingdom's ruling Conservative Party, which came to power 12 years ago on a promise to fix a "Broken Britain", has now eaten up and spat out three prime minister and gifts the next an unenviable poisoned chalice.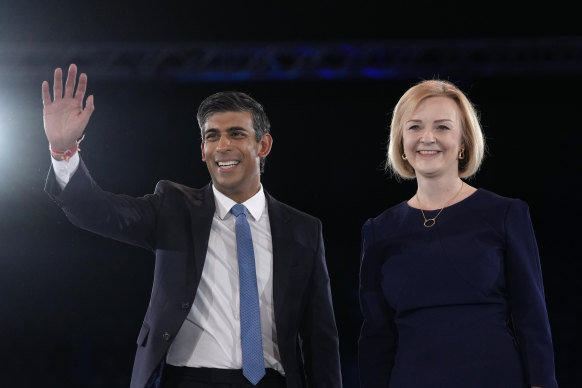 Either Rishi Sunak or Liz Truss will become prime minister in the next few hours.Credit:AP
It is hard to see what tricks are left up their sleeves. There have been achievements along the way and, of course, the polarising Brexit has undeniably restored a sense of sovereignty if not any economic dividend, but it is hard to argue things are in a better place more than a decade on.
Britain's new prime minister inherits a basket case of an economy and a looming energy crisis that will likely define their tenure, as short or as long as that might be.
If the predictions are correct, then it will be Liz Truss who is handed an economy that is forecast to go into a long recession later this year with inflation at a 40-year high and limits on the options for getting growth going again.
At 10.1 per cent in July, Britain had the highest rate of annual inflation among Group of Seven advanced economies. Forecasters expect inflation to climb higher with Goldman Sachs saying it could top 20 per cent if gas prices do not fall.
While Truss and her former cabinet colleague Rishi Sunak toured Britain in an indulgent six-week talkfest the majority of voters were left with the reality of a country that is hardly working right now.
Trains cancelled, planes grounded, mail strikes, rocketing food and grocery bills, widespread workplace action from bus drivers and barristers, railway workers and rubbish collectors. European holidays plagued by long queues at immigration.
And even on the day the successor to Boris Johnson is to be announced, cleaners, security guards and other workers at the government's business and energy department are to strike after a decade of wage stagnation.
The pound has fallen almost 8 per cent against the dollar in the last three months alone – a worse performance than the euro or even the Japanese yen – making imports of energy priced in dollars even more expensive.
The National Health Services is grappling with an immense backlog of 4.3 million patients waiting for elective procedures. The long-term growth outlook is poor.
Nearly one in 10 tenant households in England will fall behind on rent this financial year, one think-tank predicted last week. That's about 407,000 families who will be at risk of homelessness, more than the number that fell into arrears during the first year of the pandemic.
And that's just the problem on day one. The looming energy crisis – both of soaring bill and potential supply shortfalls – is promising a grim winter.
Truss is said to be considering freezing energy bills for millions of households this winter if she wins the race. On Sunday she promised action within a week.
The foreign secretary said the rise in energy bills did not have to mean "Armageddon" and vowed there will be no rationing of power.
Energy bills for households will rise 80 per cent to an average of £3549 ($6000) a year from October. Analysts say the household price cap could pass £5000 ($8455) in January and jump above £6000 in April ($10,145).
To put that in perspective, up to half of Britain's 10,500 fish and chip shops could close due to rocketing costs. As many as 5000 face being battered by crippling tariffs and the soaring prices of ingredients.
Around a third of all UK-imported white fish comes from Russia, which controls up to 45 per cent of the global supply. The price of natural gas is nearly five times what it was a year ago, courtesy of Russia's war in Ukraine.
The priority will be keeping the lights on at home, but experts have warned there is the risk of blackouts.
More businesses, including thousands of pubs, claim they will shut down this winter unless they get a multibillion-pound COVID-style bailout to cope with rising costs.
All this without the challenges of Russia and China and an ever-divided Europe, which is fracturing over the intense costs of the war, and witnessing a return in right-wing popularism.
Truss has promised to immediately cut taxes, starting with a reversal of an increase in social security contributions and a suspension of so-called green levies on power bills. But economists warn that a big injection of money into the pockets of consumers could worsen Britain's inflation problem.
And all these are just the problems we know about. There's an old saying in politics that it's the crisis you don't see coming that hits hardest.
Good luck to the new leader. Because there will be no time to revel in their remarkable ascendancy to office.
And like the Australian Liberal Party of the previous nine years, allies of Boris Johnson are already promising revenge and vowing to bring down whoever succeeds him.
And if you're a young family or an elderly couple wondering how you're going to survive the coming winter, those indulgent claims would likely fill you with rage.
Get a note directly from our foreign correspondents on what's making headlines around the world. Sign up for the weekly What in the World newsletter here.
Most Viewed in World
From our partners
Source: Read Full Article