Crucial On-Chain Trend Suggests Bitcoin Could See a Trend Reversal
Bitcoin could soon see a bullish trend reversal as an on-chain indicator suggests it will do so.
The on-chain indicator has predicted a number of notable price trends over the past few years.
For one, during 2017's bull market, the indicator formed a number of bounces off the 1.0 reading.
Other fundamental trends also suggest that the prevailing Bitcoin trend is bullish.
Bitcoin Could See a Bullish Trend Reversal Very Shortly: Key On-Chain Analysis
Bitcoin may be primed to see a pivotal bullish bounce as a key on-chain indicator reaches a historical reversal point.
As shared by Glassnode CTO and co-founder Rafael Schultze-Kraft, BTC's short-term holder MVRV ratio is reaching the historical reversal point of 1.0. The ratio tracks if short-term Bitcoin investors currently think the coin is over or undervalued.
Per Schultze-Kraft, the fact that the ratio is nearing a value of 1.0 suggests Bitcoin may soon bounce:
"#Bitcoin STH-MVRV Ratio has been above one since April. Currently testing the support line at 1 (indicative for trend reversals) – short term holders are valuing $BTC at its realized price."
As can be seen in the chart below, multiple times during Bitcoin's 2017 rally did the indicator bounce cleanly off the 1.0-1.1 reading, leading to a rally to $20,000 from around $500. The cryptocurrency was also rejected multiple times when the STH-MVRV Ratio hit one from the underside.
This historical accuracy suggests that Bitcoin may have room to move higher as the indicator nears a pivotal historical reversal level.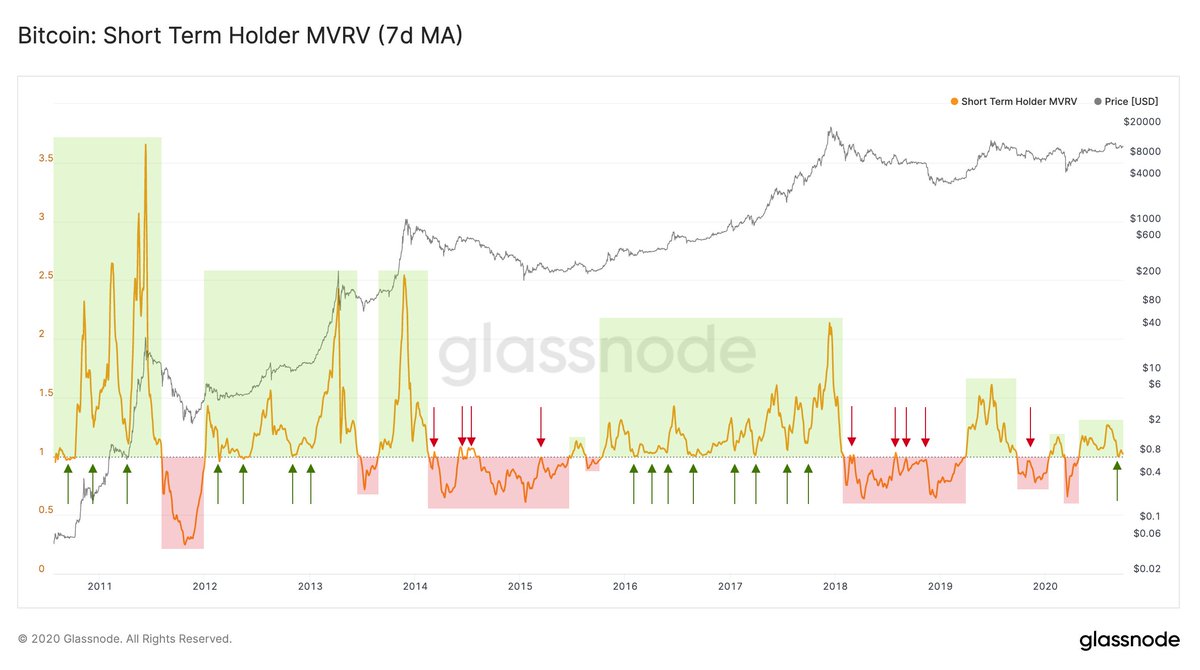 Chart of BTC's price action since 2010 with a STH-MVRV Ratio analysis by crypto analytics firm Glassnode. Chart shared  on Twitter by
Rafael Schultze-Kraft, CTO of Glassnode.
Other Fundamentals Favoring Bulls, Analysts Says
Raoul Pal, CEO of Real Vision and a former Goldman Sachs head of hedge fund sales, recently said:
"Most people don't understand the latter but is simply put, Powell has shown that there is ZERO tolerance for deflation so they will do ANYTHING to stop it, and that is good for the two hardest assets – Gold and Bitcoin. Powell WANTS inflation. I don't think he gets true demand push inflation but he will get fiat devaluation, in conjunction with the other central banks all on the same mission."
Photo by Reinhart Julian on Unsplash
Price tags: xbtusd, btcusd, btcusdt
Chart from TradingView.com
Crucial On-Chain Trend Suggests Bitcoin Could See a Trend Reversal
Source: Read Full Article