Had meeting with Adanis, happy about it: LIC chairman M R Kumar
LIC's exposure to the Adani group has been under scrutiny since the report by the US-based shortseller became public.
Nikesh Singh reports.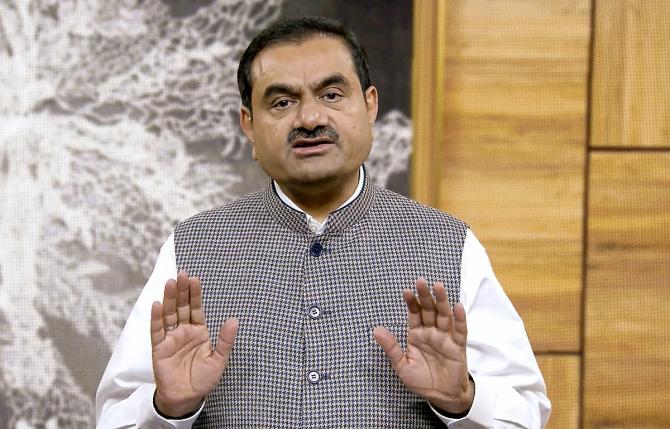 Confirming a meeting with the top management of the Adani Group, Life Insurance Corporation Chairman M R Kumar said on Sunday that the interaction had gone well.
"There's nothing I can state as of now on the outcome of that meeting.
"But yeah, we've had the meeting….we are quite happy about this meeting," Kumar said on the sidelines of the 22nd Global Conference of Actuaries in New Delhi.
He was responding to media queries on LIC's recent interaction with the Adani Group in the context of the impact of the Hindenburg Research revelations on the insurance company.
To a specific question on whether LIC was more confident on the business prospects of the group, Kumar said: "I believe so, we are quite happy with the meeting.''
LIC's exposure to the Adani group has been under scrutiny since the report by the US-based shortseller became public.
LIC has investments in seven of the 10 listed companies of the Adani group.
LIC's investments in the Adani Group constitute 0.975 per cent of its total asset under management (AUM).
As of the September quarter, LIC had an AUM of Rs 41.66 trillion.
Last month, at LIC's post-earnings conference, the chairman had said that the company's investment department had reached out to Adanis.
LIC had also stated earlier that it would look to engage with the group's management and seek clarification on the Hindenburg report.
Kumar said that going forward, three things — technology, composite licence and insurance for all by 2047— will drive the insurance business.
"LIC does not have any concurrent plans as of now on diversifying its financial products, we are just discussing and waiting for the regulation to become effective," he added.
The finance ministry has proposed a host of amendments to the insurance laws — from granting insurers a composite licence to allowing them to sell different financial products.
Kumar said the corporation would focus on North-east, Andaman & Nicobar Island and Lakshadweep to enhance coverage.
Also, there are plans to set up facilitation councils enabling consumers to get information on the products.
The Supreme Court on Thursday formed an expert committee, to be headed by former judge Abhay Manohar Sapre, to investigate if there was a regulatory failure leading to investor losses in the backdrop of the Hindenburg Research report.
In January, Hindenburg Research had published a 100-page document alleging that the Adani Group, one of India's largest conglomerates, had engaged in "brazen stock manipulation and accounting fraud scheme". The report was released on the eve of the Adani FPO (follow-on public offer).
Source: Read Full Article