Bitcoin Community Celebrates the Appointment of the New Pro-Crypto White House Chief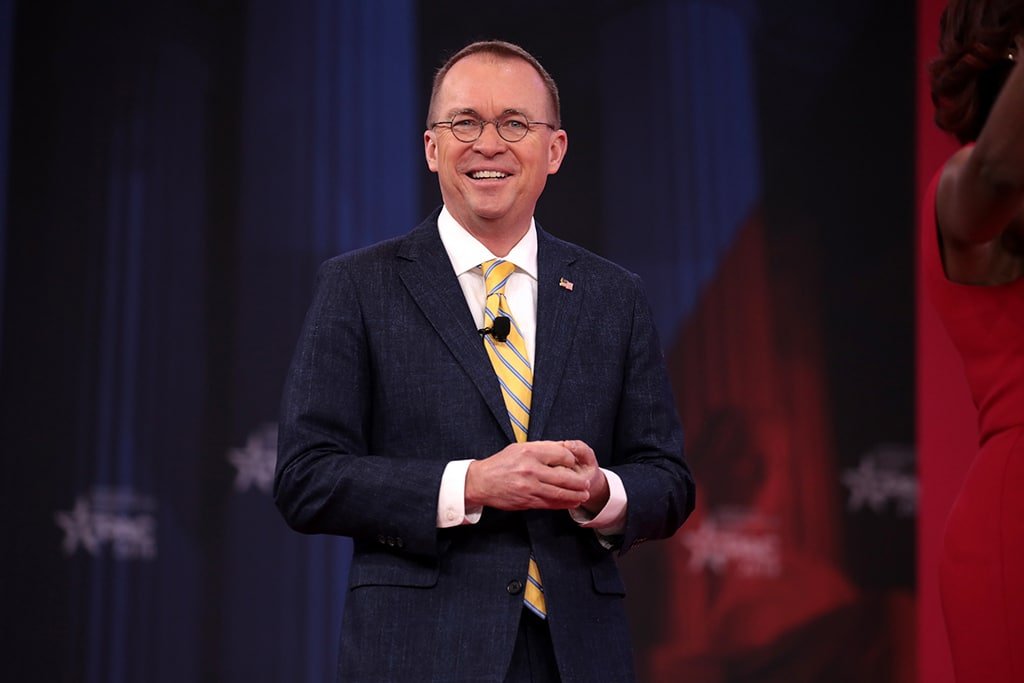 Photo: Gage Skidmore / Flickr
Last week, the Trump administration appointed the new White House Chief of Staff Mick Mulvaney. President Donald Trump himself made the announcement of Mulvaney's appointment on his official Twitter handle.
I am pleased to announce that Mick Mulvaney, Director of the Office of Management & Budget, will be named Acting White House Chief of Staff, replacing General John Kelly, who has served our Country with distinction. Mick has done an outstanding job while in the Administration….
— Donald J. Trump (@realDonaldTrump) December 14, 2018
The Bitcoin community is sort of cheering on Mulvaney's appointment considering his pro-Bitcoin stand in the past. Mulvaney will resume the office at the beginning of 2019.
Moreover, according to the Mulvaney's speech given two years back in 2016, covered by Mother Jones, Mulvaney acknowledged Bitcoin as a consensus currency while praising its underpinning decentralized blockchain technology. He said that the Federal Reserve "effectively devalued the dollar". Moreover, he emphasized that this won't be possible for a cryptocurrency like Bitcoin which is "not manipulable by any government."
In the past, Mulvaney has showered praises on Bitcoin at several such occasions. He first got interested in Bitcoin in April 2014, at a Small Business Committee Hearing on Bitcoin. Mulvaney said:
"Just wrapped up a Small Business Committee hearing on Bitcoin. I know it isn't a mainstream issue yet — and may not become one — but it is extraordinarily interesting and something that could eventually influence the dollar and our monetary policy. In fact, one of the witnesses drew favorable comparisons between Bitcoin and Milton Friedman."
Earlier this year in September, Mulvaney launched the Congressional Blockchain Caucus, an alliance of lawmakers promoting crypto use at the federal level.
"Blockchain technology has the potential to revolutionize the financial services industry, the U.S. economy and the delivery of government services, and I am proud to be involved with this initiative," said Mulvaney at the launch."
How Is It Good for Bitcoin Investors?
Getting more high-ranking officials supportive of Bitcoin at key government positions will certainly prove to be fruitful for Bitcoin investors. The collective effort from Mulvaney and other like-minded lawmakers can have some influence on the minds of U.S. regulators. In general, pro-Bitcoin officials can encourage other government bodies to have a neutral stand on crypto.
While the U.S. Commodities and Futures Trading Commission (CFTC) has adopted a friendly approach to crypto products, the SEC remains strict.
Last year in Sept. 2017, the central bank of Finland said that Bitcoin cannot be regulated as it functions under strict rules of node operators, miner, and developers. The central bank paper notes:
"Bitcoin is not regulated. It cannot be regulated. There is no need to regulate it because as a system it is committed to the protocol as is and the transaction fees it charges the users are determined by the users independently of the miners' efforts. Bitcoin's design as an economic system is revolutionary and therefore would merit an economist's attention and scrutiny even if it had not been functional. Its apparent functionality and usefulness should further encourage economists to study this marvelous structure."
However, government agencies and regulatory bodies can create rules and framework around it.
Source: Read Full Article