QBE profits up 35 per cent to $520m
Global insurer QBE Group posted a 35 per cent lift in its half-year cash profit to $520 million, helped by lower claim costs, better investment returns and rising insurance premiums.
The insurer, which has been rebuilding after a period of poor performance, reaffirmed its profit guidance on Thursday, and declared an interim dividend of 25c a share, 14 per cent higher than last year. The dividend will be franked at 60 per cent and paid on October 4.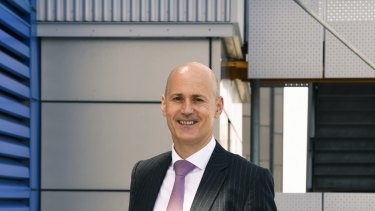 QBE chief executive Pat Regan.Credit:Peter Braig
"The Group's half year financial performance reflected a further significant improvement in attritional claims experience across all divisions coupled with materially stronger investment returns," chief executive Pat Regan said.
"These were partly offset by an anticipated increase in the net cost of large individual risk and catastrophe claims following the successful renegotiation of the Group's reinsurance program."
In a sign of a better insurance underwriting result, QBE said its combined operating ratio, which compares claims and costs to premiums, fell to 95.2 per cent, down from 95.8 per cent. A lower ratio reflects higher profitability. Return on equity was 13.4 per cent, up from 9.6 per cent a year earlier.
The insurer also benefited from higher investment yields of 6.8 per cent on an annualised basis, helped by  a solid half for financial markets globally.
QBE said two weak spots were its United States cropping business, and its Australian lenders' mortgage insurance arm.
In the mortgage insurance business, QBE said it had been affected by a "normalisation" that saw its combined operating ratio increase from 50.6 per cent to 58.5 per cent.
The US cropping business also posted a higher combined operating ratio due to "challenging" conditions for farmer clients and a particularly wet spring.
QBE said it had also purchased $174 million of its own shares in a buyback during the period, bringing its total shareholder returns during the period to $503 million, a 27 per cent increase.
"With a strong first half result now behind us and our 2019 full year guidance unchanged, through the second half of 2019 we will continue to build on the good progress we have made against our priorities," Mr Regan said.
Mr Regan also announced the appointment of a new chief executive of North America, Todd Jones, to replace Russ Johnston.
Under Mr Regan, QBE has shed poorly performing businesses in emerging markets and unleashed a program to focus on its underwriting quality and cost-cutting, which has helped to rebuild investor confidence in the stock after a run of profit downgrades earlier in the decade.
QBE left its outlook unchanged, saying it would target a combined operating ratio between 94.5 per cent and 96.5 per cent.
Source: Read Full Article